List of Services
Concept Development & Design
Tender Evaluation and Award
Construction Supervision
Project Management
Design Build Partnerships
Computer Aided Design (CAD)
In-House Plotting of Drawings
Lighting System Design
Building Audits and Assessments
Lighting Upgrades

Types of Projects
Indoor /Outdoor Lighting Design
Warehouse / Plant Lighting
Fire Alarm Systems
Nursing Call Stations
Pellet Plant Design
Standby Power Transfer Switch
Utility / Building Site Services
Underground Utility Services
Street Lighting / Traffic Signals
Powerline Utility Systems
Residential Subdivision Design
Sports Field Lighting

Electrical Engineering Services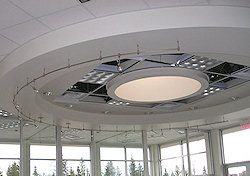 NRS Engineering Ltd provides all aspects of consulting services, either as a complete design, tender and construction process, or through design-build or project management involvement.
A brief outline of some of the services offered are listed below, individual detailed project lists are available upon request.
Concept development, feasibility studies and preliminary design.
Cost estimating.
Detailed design and tender services.
Tender evaluation and award.
Construction supervision, inspection and commissioning.
Project management and expediting services.
Design Build partnerships.

NRS Engineering Ltd has been dedicated to utilizing state of the art equipment and techniques, and remains current in computer hardware and software design technology. 

Equipment and systems include:
Computer Aided Design through AutoCad software.
In-house plotting of drawings from A to E size on wide format Laser plotters.
Lighting system design and calculations through a variety of computer aided lighting design packages.
Complete in-house preparation of tender document packages is available, including document preparation, photocopying, drawing reproduction, binding and delivery services.
Professional Liability Insurance
NRS Engineering Ltd maintains an ongoing Professional Errors and Omissions policy through Encon Insurance Managers Inc. Details of this policy are available upon request.